When it comes to gardening, you want to be sure that you are taking the necessary precautions to protect your hands. After all, you don't want to end up with any nasty cuts, blisters or pricks from your beautiful rose bushes. That's why it's important to invest in a good pair of Kevlar gardening gloves. In this blog post, we will discuss three of the best Kevlar gardening gloves for men. We'll also provide a few tips on how to choose the right pair of gloves for your needs. So read on for all the information you need!
3 BEST Kevlar Gardening Gloves for Men (RANKED)
| # | Preview | Product | Rating |
| --- | --- | --- | --- |
| 1 | | Youngstown Nylon Glove (05-3080-70) | Best Overall |
| 2 | | Youngstown Leather Glove (12-3365-60) | Best Leather Glove |
| 3 | | Hatch Nylon Glove (SGK100) | Most Diverse Glove |
What Exactly is Kevlar?
Kevlar is a material that is typically used in bulletproof vests and other body armor and was invented by the American chemist Stephanie Kwolek while working for DuPont. It is made of strong synthetic fibers that are woven together to create a fabric that is lightweight yet extremely strong. Kevlar gloves are becoming increasingly popular in the gardening world because they offer superior protection against cuts and punctures. They are also comfortable to wear and allow you to maintain a good grip on your gardening tools.
Why You Should Get Kevlar Gardening Gloves
As we mentioned before, Kevlar gardening gloves are an important investment for any gardener. Kevlar is a material that is known for its strength and durability. It's the same material that is used in bulletproof vests! So you can rest assured that your hands will be well protected when you wear Kevlar gloves while gardening, cleaning the yard or mulching yard debris.
Kevlar gloves are also multipurpose, so you can use them in the shop or anywhere that requires general protection for your hands.
Most importantly though, they look pretty damn cool when you're gardening.
What to Look for When Buying Kevlar Gardening Gloves
When you're shopping for Kevlar gardening gloves, there are a few things you should keep in mind.
Breathable Fabric
Another benefit of Kevlar gloves is that they are breathable. This means that your hands will stay cool and comfortable, even when you're working in the hot sun. Kevlar gloves are also lightweight and flexible, so you'll be able to move your fingers freely while wearing them.
Fully Lined with Kevlar
When you're looking for Kevlar gloves, be sure to choose a pair that is fully lined with Kevlar. This will ensure that your hands are adequately protected from cuts and punctures. You should also look for gloves that have a snug fit so that they don't slip off while you're working. This is why the Youngstown Nylon Glove is our top recommendation.
Make sure They're Puncture Resistant
Of course, you'll want to make sure that your Kevlar gloves are puncture resistant. Kevlar is a strong material, but it's not impenetrable. So if you're going to be working with thorns or other sharp objects, be sure to choose a pair of gloves that offer maximum protection.
Quick Reviews of Kevlar Gardening Gloves
Here at the top 3 Kevlar gardening gloves for men.
1. Youngstown Nylon Glove (05-3080-70) (Best Overall)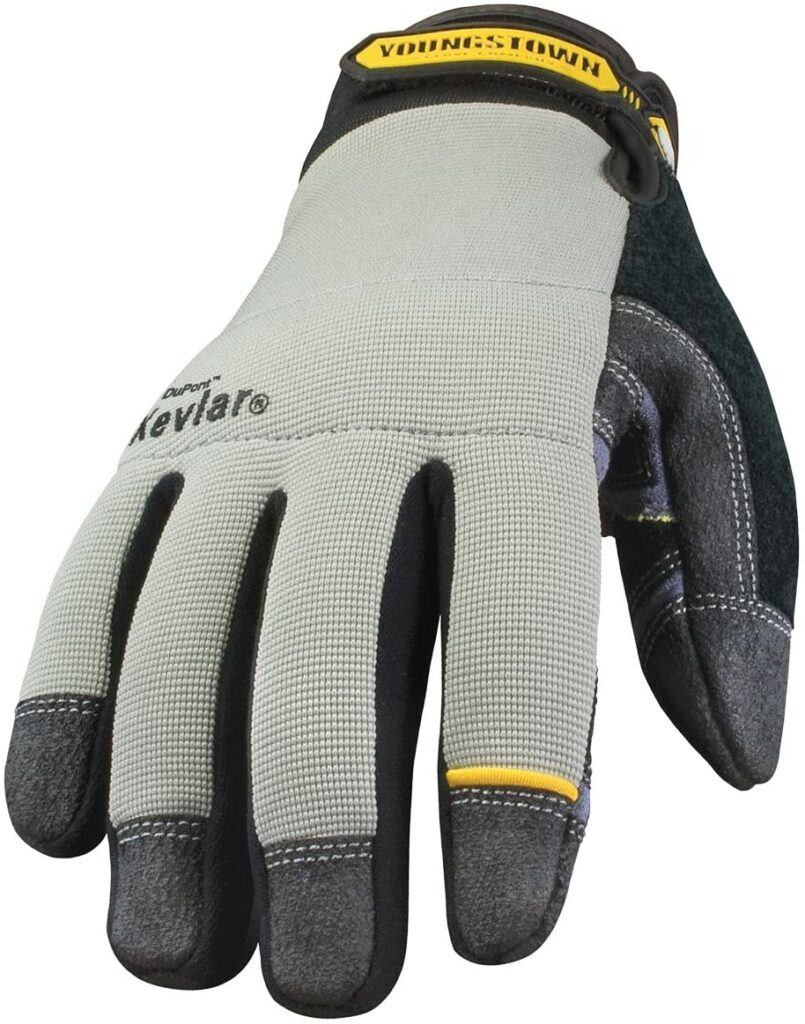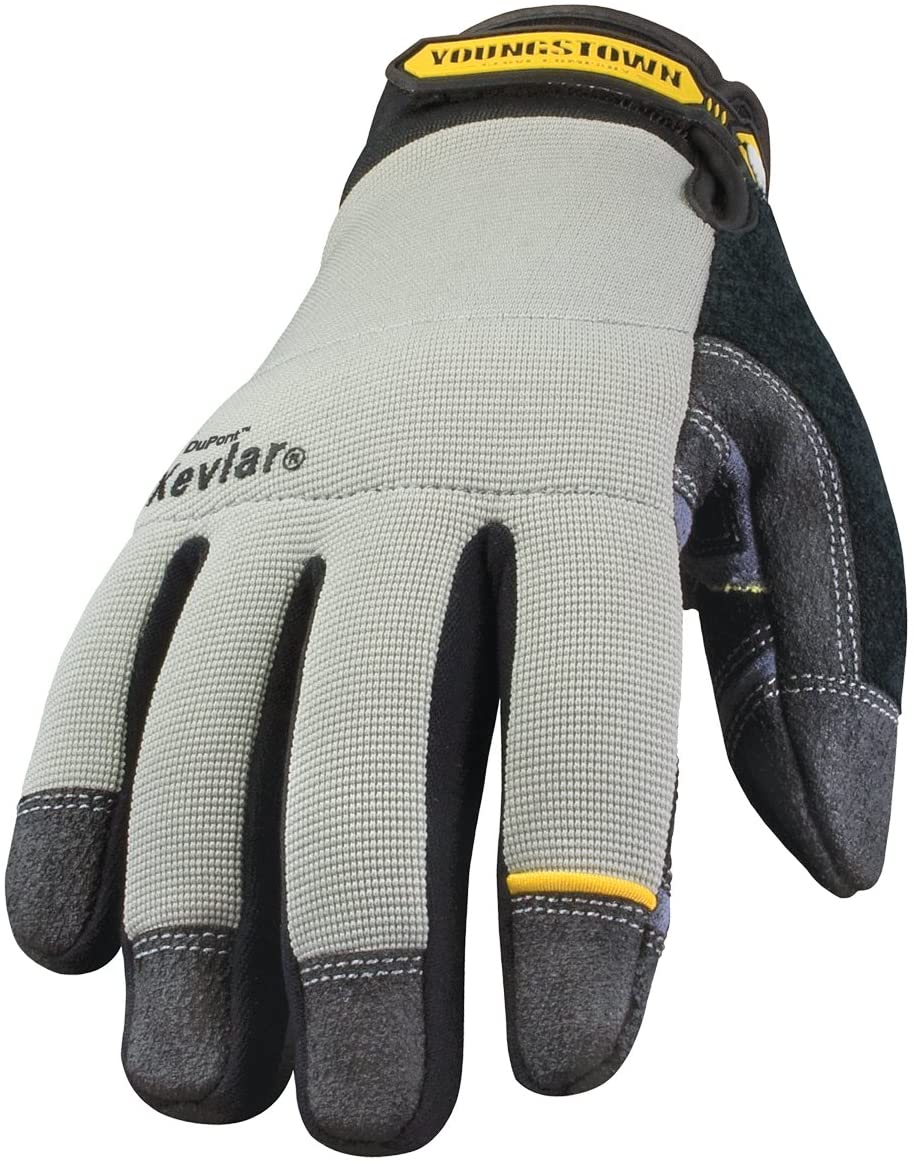 The Youngstown Kevlar Glove 05-3080-70-XL is a cut resistant and puncture resistant glove lined with 100% DuPont Kevlar. The glove offers complete hand protection with internal knuckle padding and is ideal for a wide variety of applications but most importantly – working in your garden.
These gloves are cut, tear and puncture resistant, making them an excellent choice for those working in harsh environments. They are also machine washable and air dry quickly so you can get back to your job in no time!
Pros
Great overall glove for gardening
Don't get too hot after long use
ANSI Cut Level 3 and ANSI Puncture Level 4
Cool looking
Cons
Will require washing to prevent odor from sweat
2. Youngstown Leather Glove (12-3365-60) (Best Leather Glove)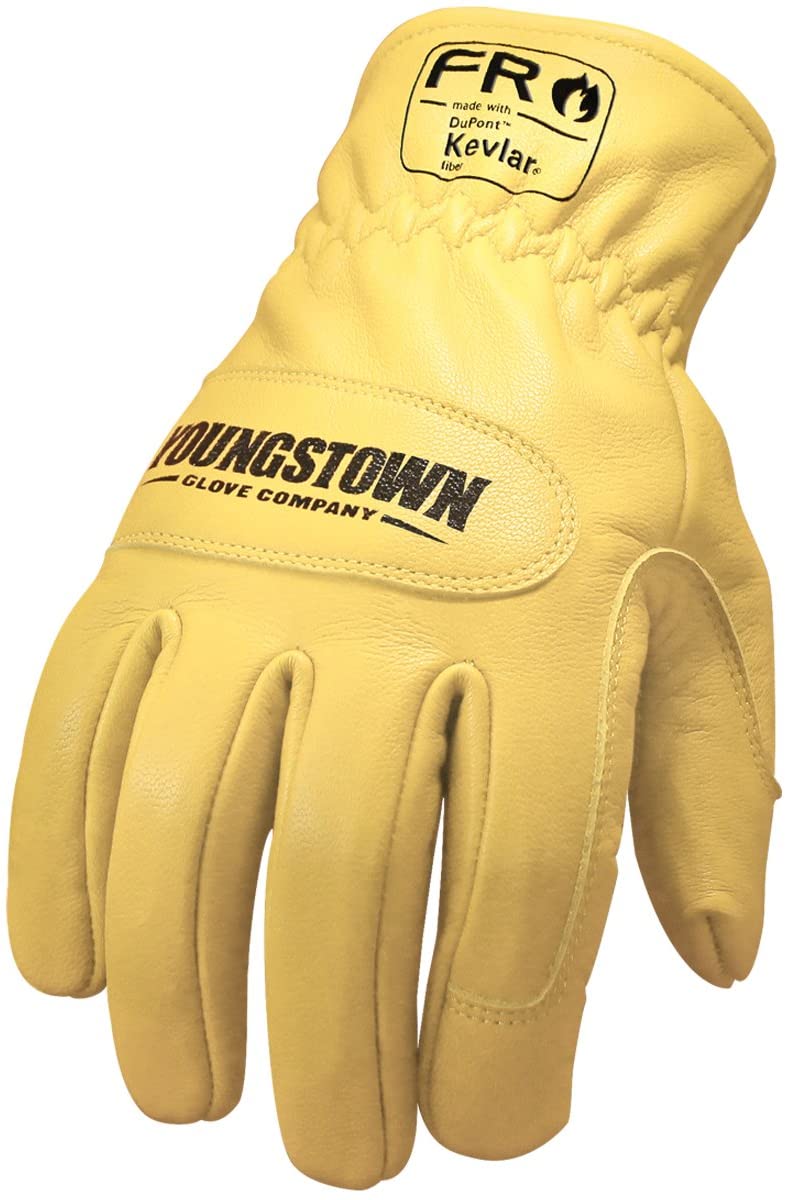 Looking for a durable and flame-resistant glove for when you have the flamethrower in the garden? Look no further than the Youngstown Leather Kevlar Glove. Made of 60% goat grain and 40% Kevlar fiber, this glove is tough enough to handle any job while providing excellent protection against cuts and punctures.
The double layer of leather on the palm, fingers, saddle and knuckle provides extra durability and safety, making it the perfect choice for any workplace.
Pros
Love the leather and kevlar combo
You look like a cowboy while wearing them
ANSI Cut Level A4 and ANSI Puncture Level 5
Cons
3. Hatch Nylon Glove (SGK100) (Most Diverse Glove)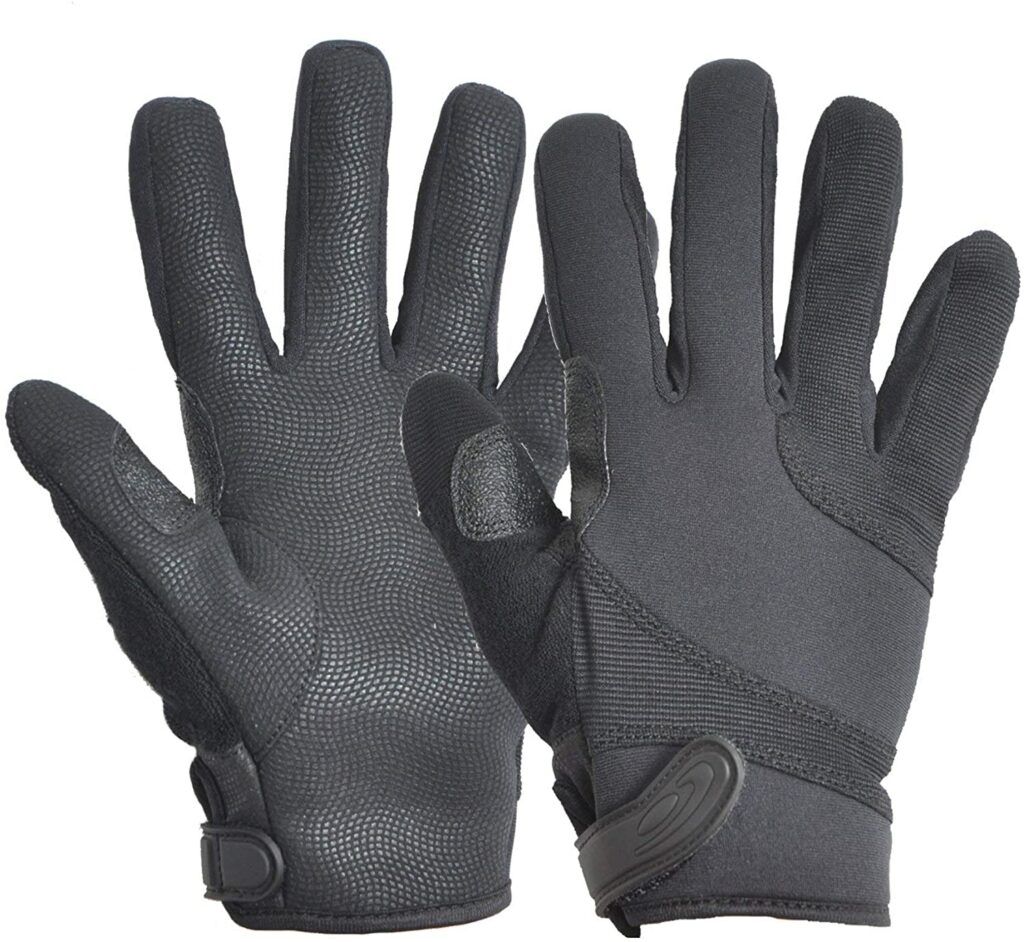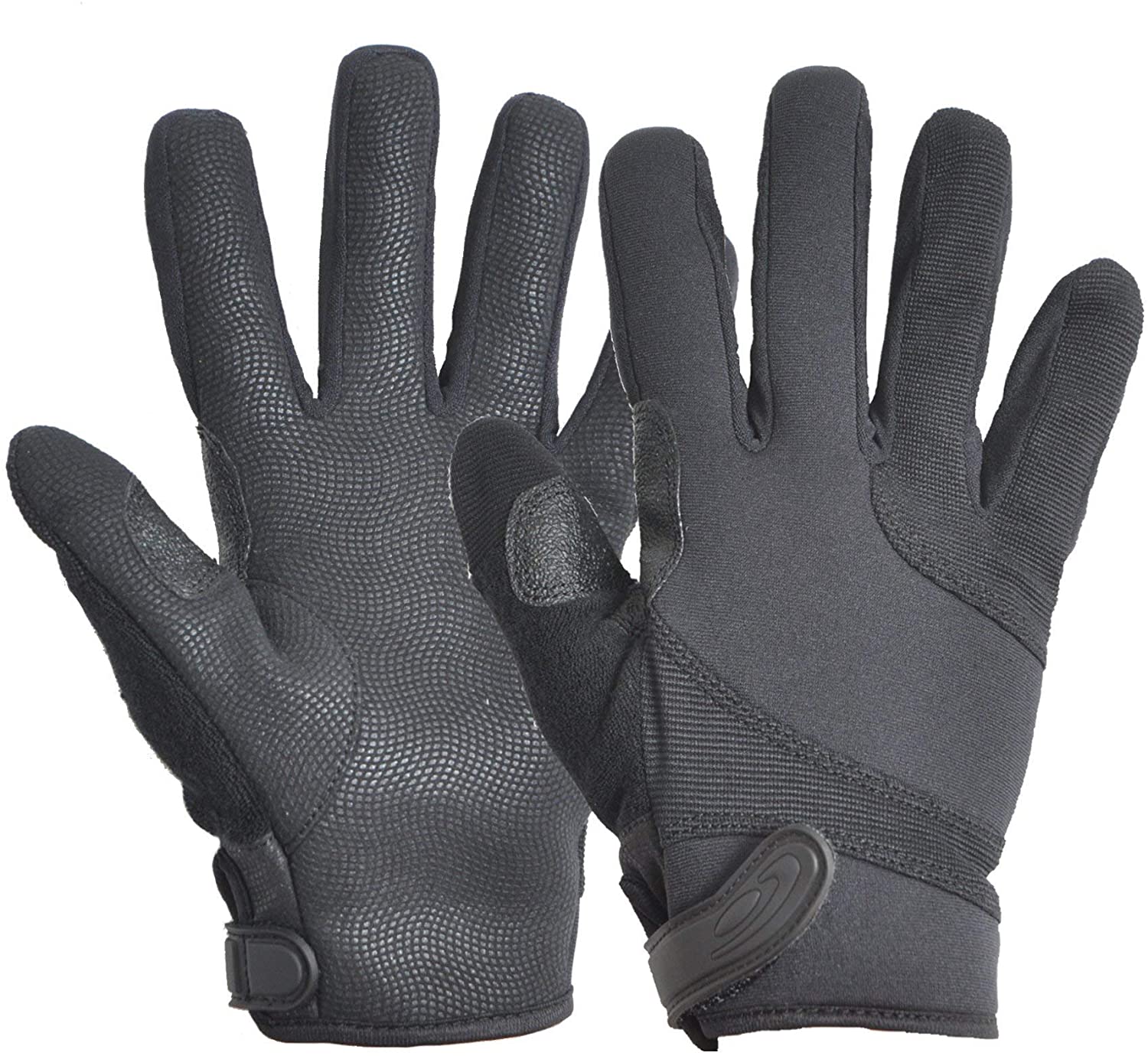 Want to look like law enforcement while gardening? While they may not match your gardening tool belt, the Hatch SGK100 will keep your hands protected from those rebellious thorns.
The Street Guard Cut-Resistant Tactical Gloves with Kevlar are 100% cotton, full-gauntlet gloves designed for law enforcement and tactical applications. The glove is constructed with an inner-palm liner featuring DuPont® Kevlar® fiber to provide cut resistance in the most vulnerable area of the hand. This tactical glove also features a synthetic palm that offers excellent grip in a variety of environments. Stretch back of hand design allows for superior comfort and breathability. This versatile tactical glove provides excellent dexterity for patrol, security, or other law enforcement applications.
Pros
Synthetic palm for enhanced grip
Very breathable
Adjustable velcro wrist straps
Cons
No cut or puncture rating available
FAQ's About Kevlar Gardening Gloves
Here are some common questions about Kevlar Gardening Gloves.
Q: Do Kevlar gloves come in different sizes?
A: Yes, Kevlar gloves come in a variety of sizes so you can find the perfect fit for your hands.
Q: Are Kevlar gloves washable?
A: Yes, you can machine wash Kevlar gloves on a gentle cycle. However, it's important to air dry them so they don't shrink.
Q: How long do Kevlar gloves last?
A: Kevlar gloves are extremely durable and can last for many years with proper care.
Conclusion
Kevlar gloves are an excellent investment for any man who spends a significant amount of time working in the garden. Not only do they provide superior protection from thorns and debris, but they also help to prevent blisters and calluses. In addition,
Kevlar gloves are significantly more durable than other types of gardening gloves, meaning that they will last longer and provide better value for money in the long run. Overall, Kevlar gloves are an essential piece of equipment for any man who is serious about his gardening.
Join the Mens Gardening Club
Get exclusive access to our blog posts and ninja gardening tips for your backyard garden.